Welcome to Fiber Arts Friday. Share your Fiber Arts Adventures! Knit, Spin, Weave, Felt, Crochet, Sew, Quilt, Embroidery, Cross-stitch, Mixed Media....oh, there is so many possibilities where we can create. Please read all of the blogs that have linked in and also post your adventures in Fiber Arts so we can learn from you.
This week I've been busy with shop updates so if you haven't visited my
Etsy Shop of Wonder
recently, you should check it out. Tomorrow is the
Michigan Fiber Fiesta
where I will be a vendor. I will be debuting my new Avengers Alpaca Batts along with some other great themed batts from Lord of the Rings, Walking Dead and True Blood. I've got a lot more ideas brewing so look for some great colorways to come.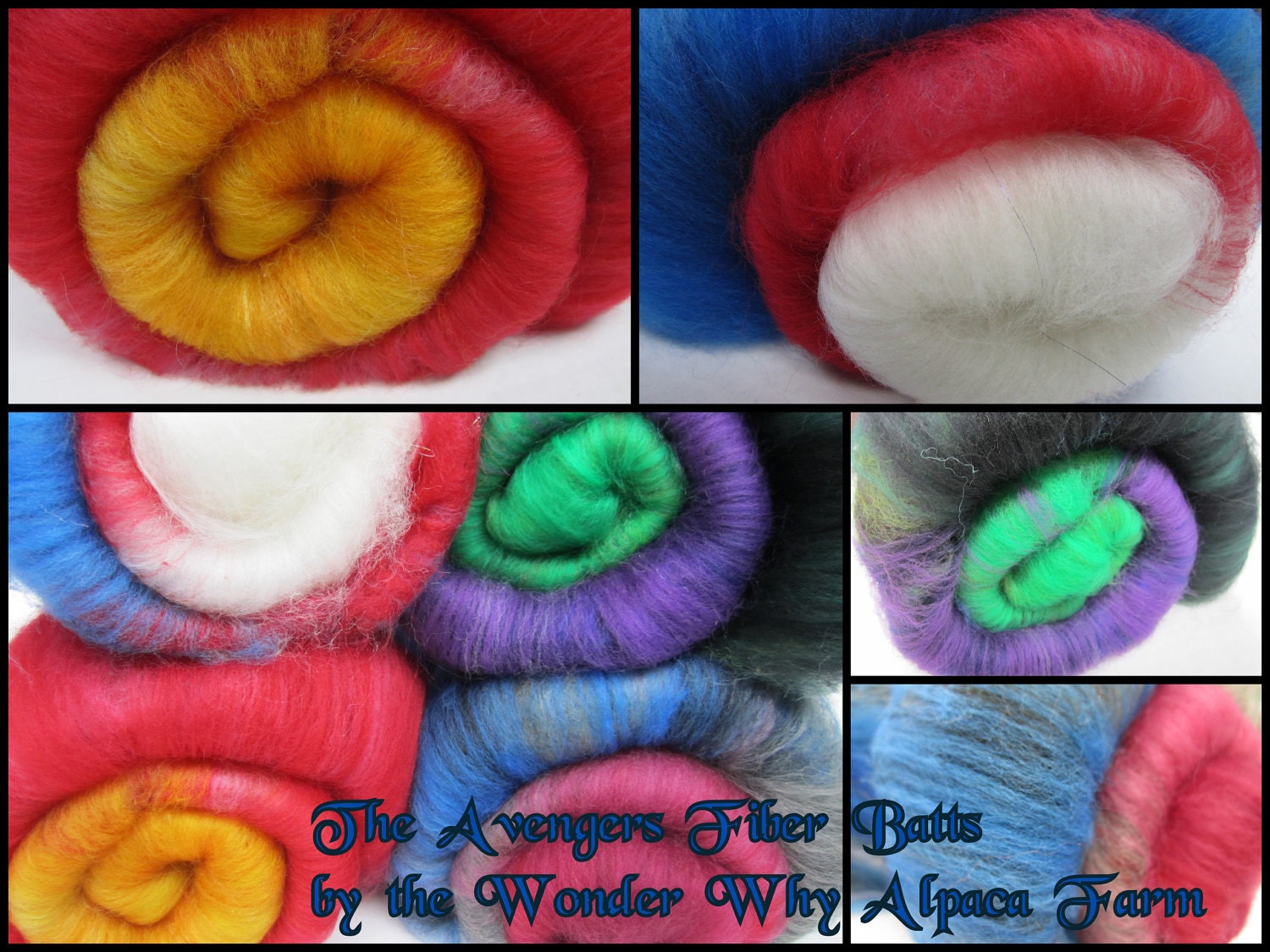 Besides spending my Fiber Arts time working at my drum carder this week, I also spun this yarn. Just shy of 400 yards, approximately 6oz of a Merino/Tencel blend names
Teresa dyed by CJKoho
. The other ply is a mixture of three colorways in my Suri Roving line: Kaboom, Haze and Pedro.
Finally, I have been watching a Robin's nest the last month or so and the eggs finally hatched the other day. The little Robins are now hungry for Mama Robin to bring them food. She won't let me photograph her. She hides in my Maple tree and hops just behind a leaf when she sees my camera. I saw a worm in her mouth so I quickly got away from the nest so she could feed her young. I sure do love Spring.
Now, share your adventures in Fiber Arts!
Fiber Arts Friday Blog Carnival!
To participate:
Submit your blog article using your current blog address NOT your complete blog i.e. you would submit
http://wonderwhyalpacafarm.blogspot.com/2010/02/e-i-e-i-doh.html
http://wonderwhyalpacafarm.blogspot.com
Link back to Fiber Arts Friday from your post so that your readers can come and see everyone else's projects! Text link to WISDOM BEGINS IN WONDER! (

That's my blog)

Visit as many of the other participants as possible and leave comments! That's what helps us all connect!
Check out these Wonderful Blogs: