Welcome to Fiber Arts Friday! This week my project seem to reflect my mood which is, "I want SPRING!" I have a few projects going which is rather odd for me because I am typically a one project knitter. Yes, I said knitting because I always have something going on the spinning wheel and typically the loom.
This week I let my Water's Edge shawl rest so I could work on a test knit for a Ravelry friend. She has written a lovely lace pattern that will soon be available inspired by my yarn. I am not a lace knitter and it takes great patience for me to knit even little bits of it but I'm learning. I have already tore this cowl apart once and I'm on the final repeat now. I found that if I didn't use Homer math and relied on stitch markers, the pattern would make more sense and by golly, it does.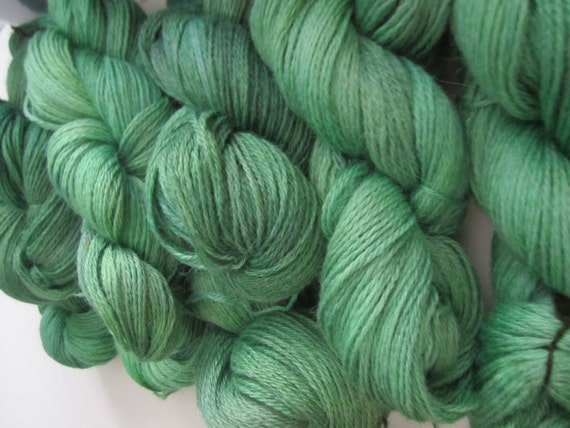 I am using my newest yarn, now in my
Etsy Shop of Wonder
, for this knit. Hint Hint, you may want to get some yourself because I will be hosting a KAL in the future PLUS I have a couple of more patterns to promote soon from fellow Ravelry friends that will be perfect for my yarn.
I am also spinning some Suri/Merino fiber from another friend's farm. It's the perfect color of lime and it's been a nice change of pace from the last few yarns I've created.
I warped my loom and I'm working on another project. I feel like a Spring Garden garden is ready to burst.
Finally, one of my favorite people in the world who is almost a sister to me is expecting twins. She is 34 weeks along (more now) and I am just now casting on her baby gifts. Oops! I am knitting the
Dino Spikes Hat
with a slight modification for the boys. My goal is to ignore all of these projects (haha) and get these hats done. I'm thinking one will be green with yellow spikes and the other will be it's opposite then for their big brother I am "planning" to knit a dinosaur out of the leftover yarn. Yeah, we'll see how that goes. She is almost family (actually a long distance cousin of sorts) and I adore her so she is worth it. I am using Cascade Yarns Pacific Chunky which is Acrylic (gasp) and Wool. It doesn't feel bad but my dislike of Acrylic (gasp) doesn't outway that the gifts are going to a person who will soon have her hands busy with three young boys and not have time to remember to hand wash. What I hate most about this yarn is that when you pull the yarn to start knitting, I have had an insane amount of knots and because it has acrylic (gasp) in it the tangles are hard knots. Seriously! I've had not choice but to cut twice and I can't splice the yarn because of the acrylic (gasp). The worst part is that each skein still cost me $8.75 and I'm still having bad yarn issues. I am blaming it on the acrylic (gasp). Another reason why I prefer to knit with handspun instead of commercial yarn. At least when I turn my skeins into cakes, you don't find all of the knots. Grrrrr.
Now...share your adventures in Fiber Arts!
Fiber Arts Friday !
To participate:
Submit your blog article using your current blog address NOT your complete blog i.e. you would submit
http://wonderwhyalpacafarm.blogspot.com/2010/02/e-i-e-i-doh.html
http://wonderwhyalpacafarm.blogspot.com
Link back to Fiber Arts Friday from your post
so that your readers can come and see everyone else's projects! Visit as many of the other participants as possible. That's what helps us all connect!
Check out these wonderful blogs