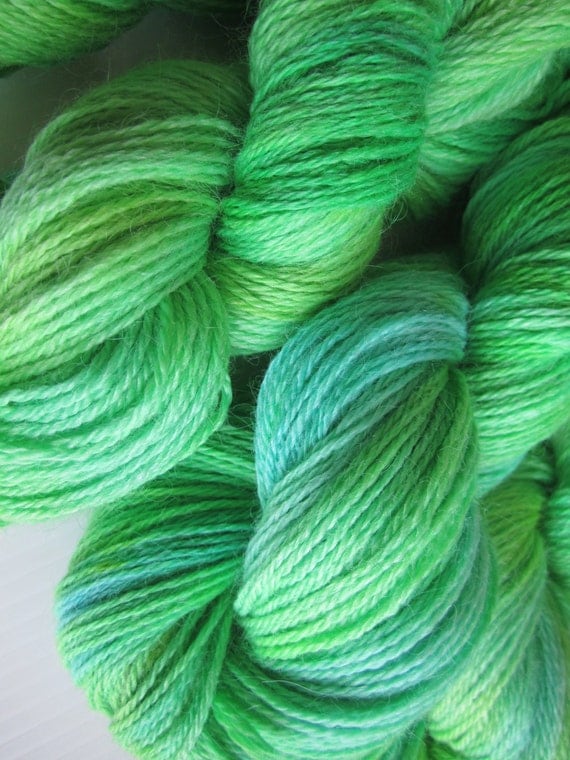 Welcome to Fiber Arts Friday! This week I'm inviting you to join in on a KAL (knit along) I am hosting in my Ravelry Group, the
Wonder Why Fiber Arts and Alpaca Group
. The KAL is featuring a design written by
Becky Greene
who is a member of Team Precious in Nerd Wars (on Ravelry) with me. She has a handful of fabulous designs already listed in Ravelry which are mainly gorgeous sock patterns (and you know how I love handknit socks) with this being her first paid pattern. I excited to see the match between my yarn and her pattern.
photo by greenethumb
The pattern is called the
Tam lin Cowl
based off the
Tam lin fairy tales
. It's a beautiful lace cowl that would be fabulous in a variety of yarns but for this KAL, we found that is is absolutely stunning in the
My Pedro yarn
that I have created from my Suri Alpacas. I am currently offering a discount for anyone who participates in this cowl KAL. The savings on the yarn will allow you to buy the pattern. Win/Win I have a variety of colors dyed in this yarn although with the sample Becky knit (see above photo) using the natural cream/fawn of the Alpaca is absolutely gorgeous. The photo of the pattern showing uses only one skein although she has written the pattern to make a larger cowl using two skeins of my yarn.
We are going to enjoy this KAL during the month of October. A perfect time to knit Alpaca to keep your neck warm during the upcoming cold months. (
Winter is Coming)
I am in love with this yarn! I know it came from my Alpacas but it really is a wonderful yarn. When you visit my
Etsy Shop of Wonder
, use
coupon code: WonderKAL
Join us in the KAL and experience the Wonder of Alpaca!
Now, share your adventures in Fiber Arts!
Fiber Arts Friday !
To participate:
Submit your blog article using your current blog address NOT your complete blog i.e. you would submit
http://wonderwhyalpacafarm.blogspot.com/2010/02/e-i-e-i-doh.html
http://wonderwhyalpacafarm.blogspot.com
Link back to Fiber Arts Friday from your post
so that your readers can come and see everyone else's projects! Text link to
WISDOM BEGINS IN WONDER!
Visit as many of the other participants as possible and leave comments! That's what helps us all

connect!
Check out these wonderful blogs