Welcome to Fiber Arts Friday! Can you believe that we are one week away from Thanksgiving. I have so much to be thankful for and every day it includes all of my fiber arts friends. Yesterday I spent the afternoon helping set up the 2013 WAFA Sale for the weavers guild. I have to admit that it's hard not to shop while helping to set up (although I did try on a gorgeous knitted mohair/wool vest that I vowed I would purchase if it was still there tonight when I work)
I took about 40 skeins of my handspun and about 20 finished woven and knitted items. Yikes! How did I create so many items? Oh yeah, I'm obsessed. That being said, here are the projects for this week.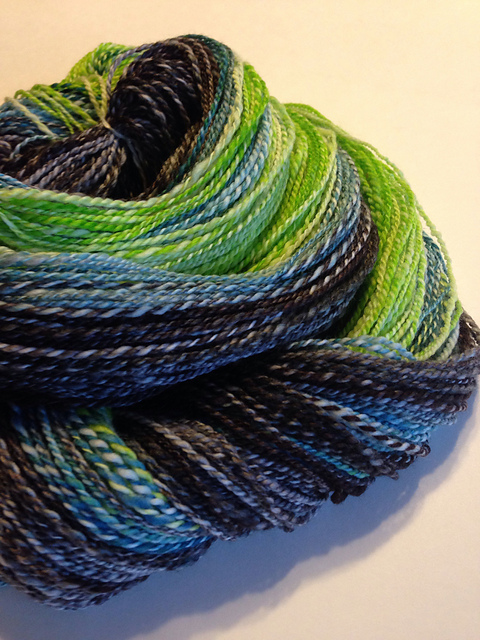 This week, I ignored the fingerless mitts and my KAL Cowl and focused on spinning this delicious yarn. 80/10/10 SWMerino/Cashmere/Nylon. I absolutely LOVE it! 396 yards/4.4 oz 2 ply. I am calling it Sport Weight. It's almost fingering. She called this colorway
Acid Wash
and I'm going to leave that name on the yarn. I'm thinking an infinity scarf would really show off this yarn.
I also spun a fabulous batt made by jazzturtle creations called
Bohama Breeze
. OMG! It was so full of texture and fun and totally different from any batt I've ever spun before. LOVED LOVED LOVED it! As a fiber artist, it is always a delight and experience to knit with someone else's handspun or spin from someone else's batt. You learn so much. I left my comfort zone and got my "wild" on.
I also cast on
Cordell the Owl
. I'm only giving you a sneak peak. Next week...he'll be finished.
Finally, I ended up with a day off of work on Monday due to the fierce storm that passed through the Great Lakes region Sunday. We had a few trees down but luckily no structure damage. Only one pasture had issues and that was an inner fence. Our 27 foot travel trailer moved. I said a foot but I was exaggerating. There was movement though. Anyways, a day off of work meant more soap making and a finished woven scarf...that is now at the WAFA sale hopefully being sold. I'm calling this scarf
Christmas Countdown
.
Now, share your adventures in Fiber Arts!
Fiber Arts Friday !
To participate:
Submit your blog article using your current blog address NOT your complete blog i.e. you would submit
http://wonderwhyalpacafarm.blogspot.com/2010/02/e-i-e-i-doh.html
http://wonderwhyalpacafarm.blogspot.com
Link back to Fiber Arts Friday from your post
so that your readers can come and see everyone else's projects! Text link to
WISDOM BEGINS IN WONDER!
Visit as many of the other participants as possible and leave comments! That's what helps us all

connect!
Check out these wonderful blogs